Cities, in general, have long been our innovation centers — places for like-minded folk to connect and share ideas and benefit from the unique talents their contemporaries have to offer.
Most major cities are attractive to creatives, and it's easy to see why. Between the hustle and bustle, the diversity, the proximity to people with shared interests and values and the abundant opportunities, moving to an urban area is one of the great American dreams.
Maybe your goals are getting into design school, landing that coveted internship or job at a top agency or simply having the luxury of access to top-notch networking opportunities. Or, perhaps you're a recent grad or looking for a new place to start a promising career.
Whatever the case, if you're a new designer, there are plenty of options, especially if you're looking to work in-house for a company or design firm.
With a wealth of potentially ideal places to be a graphic designer, it can be hard to settle on the one that feels right for you.
So, Can't You Do Graphic Design Anywhere?
Well, kind of.
We won't debate the merits of freelancing versus working for a company. Both have significant pros and cons, and tend to have more to do with the projects than the situation. And that's without taking things like taxes, health benefits and the client-to-client hustle into account.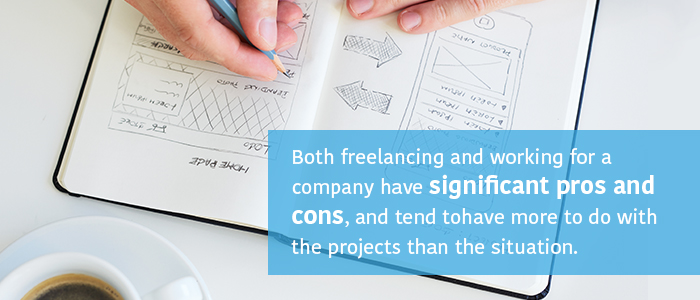 And trust us, both self-employed graphic artists and their agency-bound counterparts can benefit from being in a so-called central design hub.
City-based freelancers have access to short-term gigs at agencies, networking opportunities and the larger support system that's essential when you work at home. Sure, the Internet can help you find work, whether you're in NYC, Japan or a remote town in Alaska, but city life offers tremendous inspiration for designers — plus plenty of coffee shops, parks and those ultra-cool co-working offices.
Below, we'll take a look at the best places to be a graphic designer — accounting for the potential job opportunities, cost of living and of course, the creative culture.
Here's a look at our list of best cities for graphic designers, and a little background info on each one:
New York, N.Y.
Unsurprisingly, New York City is a top spot for graphic designers. With a bustling art scene and inspiration around every corner, whether you opt to explore the many small galleries from Chelsea to Long Island City's MoMA PS1, or the most established cultural institutions like the Met or the Whitney, there's no shortage of eye candy for the artistically inclined.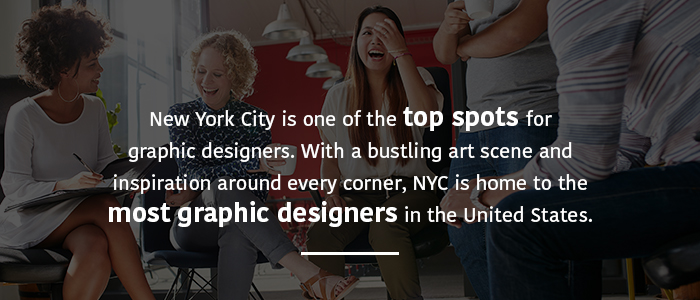 Heck, you can just spend the day people-watching, and you'll amass enough ideas to fill up a Moleskine with ink pen doodles.
Since the Big Apple is the most densely populated U.S. city, it shouldn't be a shock to anyone that NYC is home to several prestigious design programs. Traditional schools include the Shillington Graphic Design School, Parsons Design School, The Pratt Institute, the School of Visual Arts and more.
Then, there are the many design workshops cropping up all over the city — teaching real skills at a much more affordable price point than shelling out for design school.
If you're just getting started on your career path, NYC is home to some of the biggest digital agencies, brands, blogs and more. Chances are, if you're looking for a job or an internship, you can find it in New York City.
Los Angeles, Calif.
Sunny skies meet sandy beaches in California's film and television hub. Bustling with creatives of all stripes — from actors to screenwriters to artists and aspiring comedians — LA is one of the best places in the world for people who want to avoid the old 9-to-5 grind.
Home to the Otis College of Art and Design, the Fashion Institute of Merchandising and Design, UCLA and a bustling art scene, LA is filled to the brim with visual inspiration and a diverse population of folks who take pleasure in all things creative.
Though LA's rents are on the rise, there are plenty of tradeoffs — for one, the proximity to the entertainment industry is a boon for designers hoping to work at a larger firm with a world-class reputation.
Second, due to the sheer surface area of the city, LA is chock-full of businesses of all sizes. The sunny entertainment capital brings plenty of work opportunities to the table, whether you're going freelance or seeking  an in-house position.
Miami, Fla.
We might be a little biased since our office is Miami-based, but we couldn't leave our hometown off this list as an up-and-coming center for the arts! Of course, anyone across the world can benefit from our graphic design services as we offer you a full design team from the comfort of your own home or office.
Miami is more than great food and legendary nightlife. While the Miami design aesthetic might be a little different than edgy New York style or twee Portland design, Miami brings a flavor all its own to the design scene.
Ever heard of Art Basel? The European art extravaganza certainly saw something special in our tropical-paradise-meets-major-metropolis, and has brought some serious glitz and glamour to the city.
But beyond the big art fair, Miami is home to a thriving cultural landscape — perfect for networking with like-minded creatives — as well as institutions like the Pérez Art Museum Miami and a solid Latin American art scene.
Sure, there's plenty of inspiration to go around, but what about the job prospects? Compared to other Floridian cities, Miami-based designers stand to make more annually. Companies like CBS, Booz Allen Hamilton and VR company Magic Leap are in need of designers, and there's no shortage of smaller companies if you're looking for something more relaxed.
Freelance on the beach, or look toward Miami's colorful neighborhoods for inspiration. The Design District is home to plenty of luxury attractions, while hip Wynwood has the market cornered on the young and artsy set.
Austin, Texas
A Southwest city that's been on the rise culturally for the last several years, Austin is home to a high percentage of "creative class" workers and features plenty of inspiration, from awesome live music to great food.
These days, Austin has become something of a tech hub, bringing a surge of entrepreneurship to the city — and with it, a need for someone to take care of the visuals. Beyond South by Southwest and the tech scene, Austin's appeal is the collision between the arts and startup culture, with an interesting shakeout as a result.
Minneapolis, Minn.
Before you assume we're exclusively in favor of big cities for their broad appeal to designers craving variety, midsized cities like Minneapolis provide a different set of benefits.
Home to the Walker Art Center and the Wiseman Art Museum, this American city has much more to offer than the Mall of America.
As a graphic designer, you might not make as much in the Twin Cities as you might in San Francisco or New York. However, this Midwestern gem is home to an up-and-coming creative scene, coupled with a lower cost of living. Designers might do well to consider this unexpected locale when starting the job hunt.
Portland, Ore.
Known for its "Keep Portland Weird" tagline and a penchant for all things creative and crafty, Portland is the perfect location for many graphic artists — especially those who wish to live in a community that places a high value on the arts. As a bonus, the City of Roses has a lower cost of living than many other major cities on the West Coast.
With walkable neighborhoods, the Portland Art Museum and monthly gallery events in both the Alberta Arts District and the Pearl District, Portland's art scene is both bustling and DIY-approachable.
As far as job opportunities are concerned, Portland — or, as it's humorously nicknamed, Silicon Forest — has long been home to tech companies like IBM and Tektronix. Recently, companies like Airbnb and Autodesk have put down roots there as well.
Job hunters looking for traditional agency jobs also have plenty of options. There's famed ad agency Wieden+Kennedy, Brown Box Branding and Copius if you're hoping for some serious opportunities to showcase your branding skills.
Bridgeport, Conn.
The Southwestern Connecticut city is one of the more surprising picks on this list, but it's worth pointing out that Bridgeport is a great spot for creatives looking for a stable income in a city with a surprisingly large ratio of creative class members to their more traditional counterparts.
A smaller city than some of the others listed, Bridgeport is great for designers who want big-city proximity without having to deal with traffic jams, crowded subway trains and loud noises on a daily basis.
Right on the water, and relatively close to places like Long Island Sound and Boston, Bridgeport is home to many artists, graphic designers, performers and other creative types.
Boston, Mass.
Good old Beantown. One of the most historic cities in the United States, Boston gets top billing in U.S. history classes across the country. But Boston has evolved into a modern tech hub — boasting a startup culture rivaling innovation hubs like Silicon Valley, NYC and Austin.
And then there's the cobblestone roads, the Institute of Contemporary Art, the Museum of Fine Art and plenty of charming pubs where you can sit back and doodle the night away.
Not only is Boston home to many world-class colleges — um, Harvard, MIT — it's also home to several big-league design firms and ad agencies. Think CGI Interactive, 451 Marketing and Allen & Gerritsen, just to name a few.
This so-called "capital of New England" offers plenty of job opportunities for the designer who'd rather work in a hip office environment rather than live the solitary freelance life.
San Francisco, Calif.
Ah, San Francisco. Home to the unique cultural mashup between tech bros and hippies, San Francisco's proximity to Silicon Valley, Oakland and more make this big-city spot an obvious pick for the best places for graphic designers.
Not only is the City by the Bay one of the happiest and healthiest places to live, but it's also home to design firms like Character, Noise13 and Project6.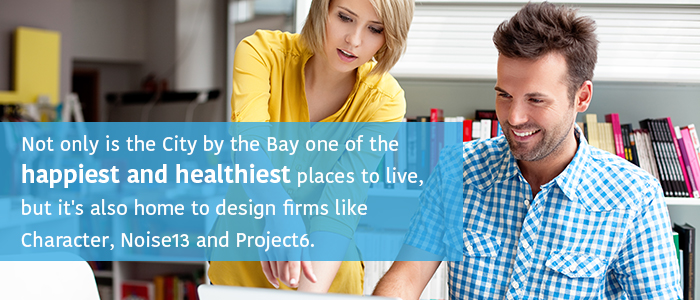 San Francisco itself is teeming with inspiration, from its unique wooden architecture to its steep hills, stunning views and "Painted Lady" Victorian-era homes. There are plenty of galleries, including the newly remodeled San Francisco Museum of Modern Art. The city's walkable vibe is also a bonus for those who like getting extra fresh air and exercise.
The city is also home to plenty of small businesses and close to all kinds of innovative startups — which provide ample opportunities for skill swaps or for fostering designer/client relationships. Networking, though often feeling like a major slog, is key.
Learn Additional Skills to Bring to the Table
No matter where you end up, having the right skills can make or break your job prospects. Naturally, your knack for illustration or mad Photoshop skills got you turned onto designing in the first place.
But no matter how good you are at wielding that pen collection or mouse, learning some high-tech skills can add some serious weight to your marketability. Think coding, user experience design and so on.
These days, a growing number of design jobs fall within the realm of digital and web design. And getting some serious UX/UI training — even if it's a workshop here and there — can give you a major leg up on your peers who opted to focus exclusively on the traditional graphic elements of design.
A little diversifying never hurt anyone, after all. At The NetMen Corp, we know from experience that our broad offering of services has helped us stand out from the competition.
A Note for Freelancers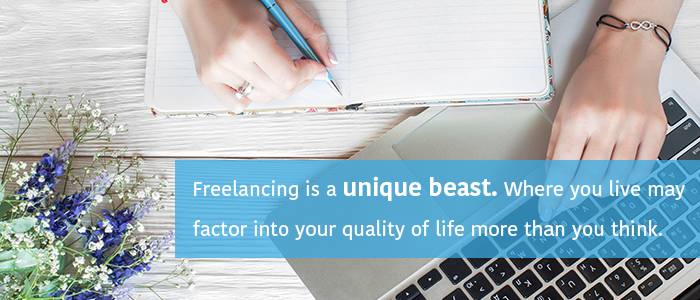 Freelancing is a unique beast. Where you live may factor into your quality of life more than you think. For example, living in a major design hub may provide more inspiration and offer additional opportunities to connect with fellow designers. Population hubs are also a good place to find people who need designers against the diverse cultural backdrop so many of us dream about.
But you'll always need to be on the hunt for new clients, since freelancing can be an unpredictable way to make a living unless you're highly disciplined.
Some freelance clients will present a contract that bars you from using your best work in your portfolio. Keep drawing, because it's hard to get a good job without being able to showcase your natural talents.
Cultural Fit Is Often the Most Important Factor
In the end, finding the right city for you often depends more on your personality and values than the industry itself. Younger people fresh out of college may more easily be able to chase down opportunities in far-flung places than a more seasoned designer with a young family.
The type of design you specialize in is also a key factor in making this decision. A pattern designer or someone who does clothing graphics may do well in a city with a bustling fashion community like New York.
Meanwhile, an artist who specializes in helping businesses create logos and infographics might do best in a community where they can work with startups to optimize their websites.
Miami has been the perfect place for our business to thrive — and it's certainly one of the best cities for graphic designers. To learn about The NetMen Corp and the multiple services we provide, check out our portfolio or contact us today.