Learn What You Can Expect in a Partnership with Us
Explore our background, services, processes, timelines and our 110% satisfaction guarantee.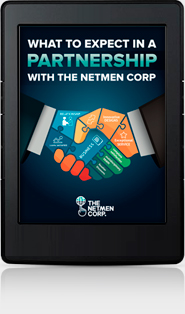 From large corporations to solopreneurs – The NetMen Corp is proud to serve agencies with design services they can resell to their own clients. Your agency is the face of our designs.
As client questions arise, all you have to do is feed them to us, and we'll get back to you quickly. This helps you can continue to provide your customers with the support they've come to expect from you.
This eBook will:
Provide a background on The NetMen Corp
Discuss our white label reseller program.
Explore our processes and timelines
Get to know us and how we can help your business. Download today by filling out the form on the right!
Download the eBook
What to Expect in a Partnership with TNMC