Una empresa de diseño gráfico con experiencia en la que puede confiar.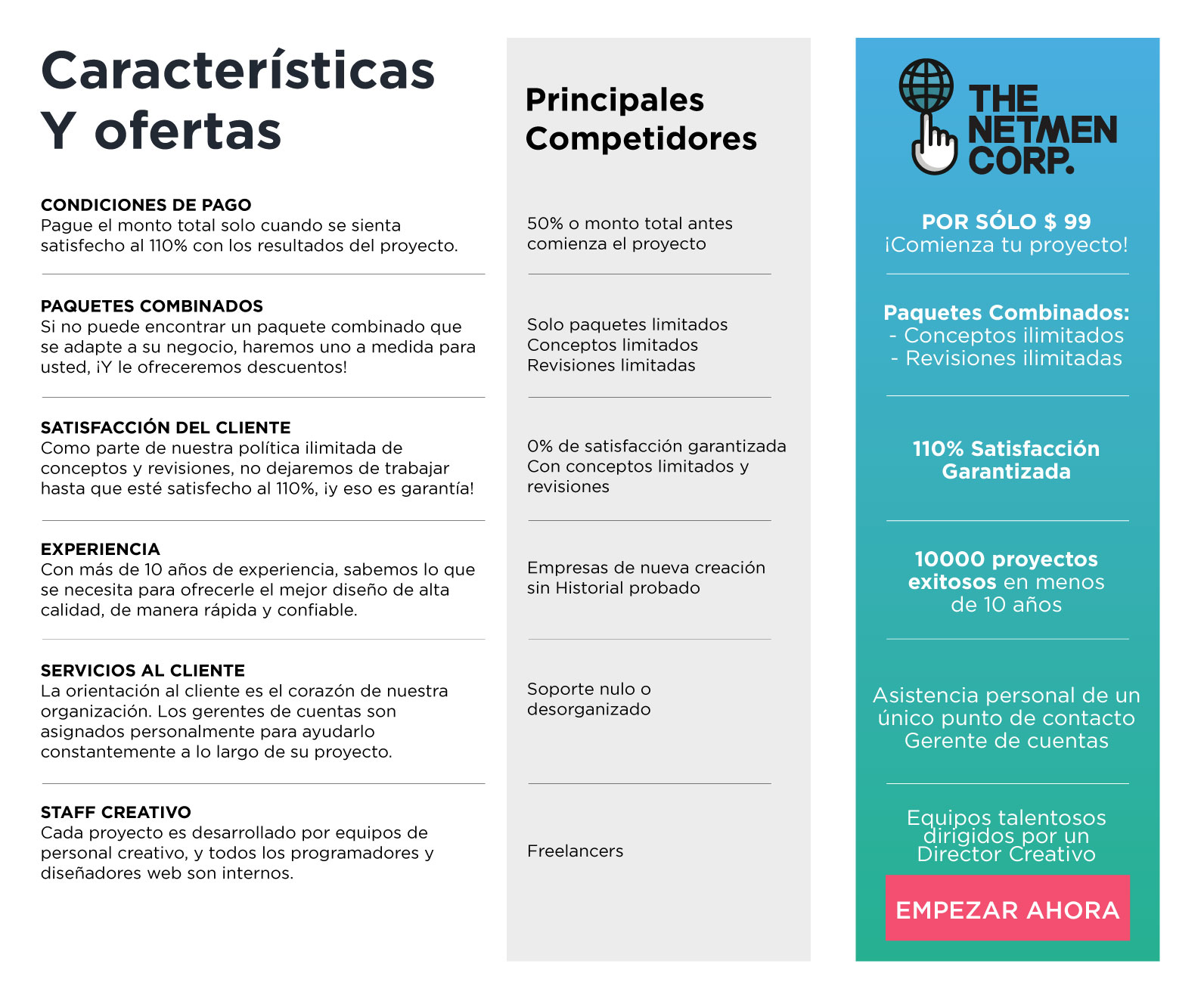 Encontrar el diseño correcto para su empresa es crucial, sin importar a quién esté contratando a alguien para hacerlo. Ya sea un nuevo vendedor o un conductor de limusina, quiere a alguien con quien pueda trabajar cómodamente, que escuche lo que quiere y le dé feedback constructivo que ayude a su empresa a fortalecerse. Eso es ciertamente lo que necesita de las compañías de diseño gráfico que considere emplear.
El diseño gráfico es personal. Lo que le atraiga a Usted no le gustará a otra persona, por lo tanto desea que una empresa que conozca y escuche sus ideas para producir logotipos, envases, papelería y más. Necesita una agencia que ofrezca diseños 100% personalizados y que se ajusten a la identidad de su empresa.
Puede contar con The NetMen Corp para satisfacer todas sus necesidades de diseño gráfico. Como agencia profesional, conocemos a nuestros clientes y luego les ofrecemos diseños para reflejar sus servicios y personalidad corporativa. Nos asociamos con una amplia variedad de empresas para ayudarles a diseñar materiales de marketing que puedan usar para ganar nuevos negocios e impresionar a los clientes existentes
Compárenos con otras agencias…
Descubra la diferencia de trabajar con nuestra compañía de diseño gráfico de manera online en comparación con las compañías competidoras. A diferencia de otros grupos de diseño, The NetMen Corp le da acceso a su organización a más de 40 directores creativos, diseñadores gráficos, ilustradores, desarrolladores de HTML y WordPress, administradores de cuentas y representantes de atención al cliente. Con todas estas variantes, puede estar seguro de que sus preguntas, solicitudes y comentarios siempre serán escuchados y su diseño final será 100% original.
The NetMen Corp confía tanto en su trabajo de diseño que comenzaremos cualquier proyecto por solo $ 99. Después de las discusiones conceptuales, revisiones y finalización, y la satisfacción completa del cliente, se realiza el pago final. Con más de 15,000 proyectos completados con éxito, confiamos en que siempre entregaremos resultados de alta calidad en relación a sus estándares.

Diseño gráfico en línea para logotipos, sitios web y más
Nuestra agencia tiene una década de experiencia. Hemos trabajado con empresas en una amplia gama de industrias, y mantenemos contentos a nuestros clientes al prestarles atención personalizada. Cada uno tiene un agente de cuenta que puede proporcionar actualizaciones e información a lo largo del proceso de diseño.
Cuando permite que The NetMen Corp trabaje en su diseño gráfico, también obtiene:
Precio fijo, no importa cuántas revisiones tenga o conceptos que probemos.
Satisfacción garantizada.
Diseñadores internos que conocemos y confiamos, en lugar de profesionales independientes contratados para completar un trabajo.
El beneficio de nuestra experiencia, lo que significa que sabemos qué funciona y qué no funciona en el área de diseño para su industria.
Si necesita un diseño o muchos, The NetMen Corp puede personalizar paquetes para satisfacer sus necesidades. Nuestros clientes aprecian nuestra flexibilidad además de nuestra experiencia y conocimientos.