The survival of small businesses is contingent on many things, but they all have to work for at least 50% of marketers to take a chance on them. A small business can't afford to invest in a strategy that may or may not work because it can't afford to take chances on its returns.
According to an Ipsos survey, 72% of American consumers say a product's packaging affects their purchase decisions. Since you need a sure-fire strategy, we're here to tell you that nothing quite hits the nail on the head like The NetMan Corp's packaging design in Miami.
Check out some ideas below to inspire a bankable packaging design for your products.
Go the Extra Mile with a Custom Delivery Package
Your shipping box doesn't have to sport your color theme to have a brand identity. You can easily use a regular cardboard box and print your logo and message anywhere on its external surface.
Custom shipping boxes don't demand as much work as internal packaging. Unlike the latter, you only need to focus on high-quality print for your shipping boxes. The ink needs to be flawless if you're going with the regular black-on-brown combination. Before printing, aim for small-scale production, so you don't face warehousing issues if supply supersedes demand.
Example: The Detox Market
The Detox Box by The Detox Market looks like any other brown box. The only thing setting it apart is the svelte white label on the front and a black printed ribbon securing the box with the brand's message. You could use the same features for advertising your socials, promotions, and contact details.
Oddly Shaped Display Boxes
Businesses that sell high-end products have the luxury of displaying their items in display boxes that don't adhere to the standard geometry. Think of mass-produced box dyes. They come in square-or rectangular boxes because they aren't high-end enough to "think outside the box."

Most stores won't display your non-square-shaped boxes if they aren't luxury products because they aren't willing to give up shelf space for something that doesn't even cost all that much. They might be willing to display triangle-shaped sandwich boxes, but if that's not what you're selling, they'd much rather save the space for stackable items. However, stores might be willing to accommodate expensive chocolate, cookies, jewelry, or wine. If that's what you're hoping to sell, you can be as eccentric with the packaging as you want.
Example: Bag Ladies Tea
The Novel Teas by Bag Ladies Tea are known for their oddly shaped packaging. Most of their cardboard bags are shaped like brown lunch bags folded at the top, but brown bags are the last thing they resemble. With an attractive print, bold font, and a standout box, they tempt shoppers to try them at least once.
Add a Wrap for Added Flair
Some small businesses aim for minimalistic but end up with boring packaging after initial customer reviews. If you don't have enough resources to start the design process from scratch, hire professional graphic designers for branded wraps, which you can wrap over your existing packaging or directly on a product, say cutting board or knife set.
The latter would give potential customers a feel for your product and its quality. If they like what they touch, it'll improve your brand identity and loyalty. Adding a wrap over this product would keep it together and reflect your attention to detail. The slenderer the wrap, the more your customers will focus on its colors, font, and design.
Example: Avion Oak
Avion Oak is a household name in cutting board sets. As simple as its products are, the company knows how to package or wrap them for its customers. With functional and slender branded wraps displaying a gold font and a background filled with natural elements, these cutting boards catch the eye where they are on display.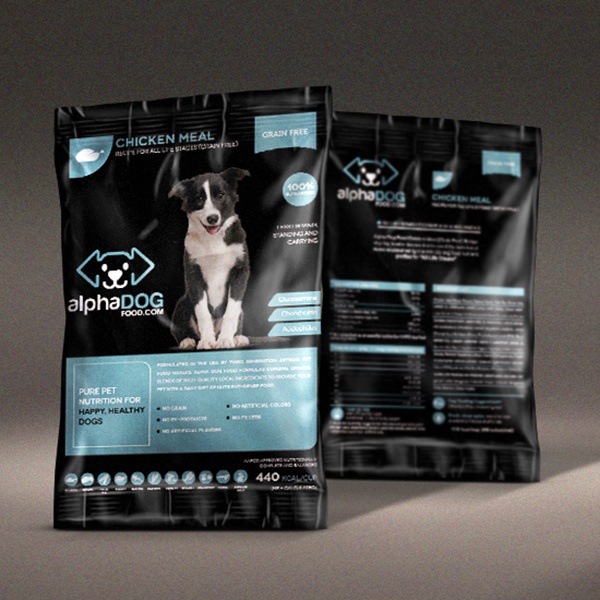 Pouches Are the Way to Go
Are your products soft or granular yet containable, like some cosmetics, pet food, or coffee grains? You can package them in pouches to save capital on tin or tetra-carton options. With this affordable option, you can pull out all the stops on graphic design services.
You can keep it simple with a logo and minimalistic designs or use your logo as a starting point for your design theme. Since logo design is only one aspect of your brand identity, you might want to consider your overall business model when developing the packaging design. For instance, you can choose a digital illustration to cover your pouch if you sell something suitable for human consumption. Similarly, you can use a tri-color theme and original images if you're selling pet food
Example: Alpha Dog Food
The pet meals at Alpha Dog Food come in pouches. Since there are many of them, let's look at their Grain Free Dog Food packaging. It uses a tri-color palette, with black occupying the entirety of the pouch and some patches on the dog display. The whites and blues are taken up by the text, logo, and the dog. This combination works because it alludes to the brand's identity with color, font, and content, which is more textual than visual.
Consider Perceived Sustainability for Your Packaging
The modern consumer cares about their environmental impact and is reluctant to support brands that don't promote sustainability. When you tout eco-friendly packaging, your consumers are immediately drawn to your product, its packaging design notwithstanding.
Suppose you don't want to invest much in design and still attract traffic. In that case, you can explore affordable eco-friendly packaging options and redefine your brand values to ensure your consumer sees you as an eco-aware brand.
If the sustainability aspect of your packaging isn't immediately obvious, you can include instructions on composting, recycling, and disposal on the side instead. As a company that's designed everything digital and traditional under the sun for the past 20 years, we have yet to see a business fail after adopting sustainable packaging solutions.
Example: Calvin Klein
Calvin Klein's new packaging features the previously mentioned recycling instructions. The brand has collaborated with How2Recycle to widen its net across consumers who value the human impact of disposable waste. With this latest effort, they hope to simultaneously reduce their contribution to the landfills and improve their bottom line.

Be Wise About Container Labels
There are trillions of bottled products released every year containing liquid or semi-liquid contents. You can package a product of that nature in a glass or plastic bottle but ensure it's not missing the following components:
The industry-standard fine print.
A table of ingredients.
A light background for a readable print.
Alternatively, you can use a dark background for the label and a light-colored font; your logo and other text will be just as readable.
As for the design, we wouldn't recommend minimalistic illustrations if your label is more visual than textual. Keep it simple where the design reflects the text. Go all the way where you only have the design. You can also use a bold font where the design might be too distracting and limit your color theme to two colors to keep the costs down.
Example: LUSH
While 65% of all LUSH cosmetics are sold naked, its plastic pots and bottles use 100% post-consumer plastic. While prioritizing sustainability, the brand leaves no stone unturned on its container labels, which remain black-and-white for the most part but manage to dazzle the customer with their stylish font and text-centric design. The brand keeps things uniform on the text and design front despite being a cosmetic chain, which is something a small business could use if they're still finding their footing in the industry.

Entertain Wrapping Paper Options
Everyone has seen tissue wrapping paper, but not everyone would've come across personalized tissue wrapping paper. Wrapping paper is most used by brands selling lingerie, soap, and cosmetics. Since it's gentle to the touch and looks classy, boutique sellers use it to wrap your items elegantly.
Customize your wrapping papers by adding your logo design to their otherwise plain expanse. Since tissue wrappings can't handle too much ink, you may not be able to do much with them, which might work to your advantage. The less work involved, the less you'll have to pay for it all.
If you haven't designed your carton and canvas bags yet, you can adopt the minimalistic design on your wrapping paper on other packaging items. A cohesive image would keep your design costs down overall and strengthen your brand identity. If you must change anything across packaging, try flipping colors instead of changing the design.
Example: KFC
KFC recently changed its packaging for a little design upgrade and a lot of environmental support. You'll notice that it kept things uniform across all products, even its burger wrappings, which is where tissue packaging comes in. With this latest change, the burger joint has killed two stones with one. It's satisfied its eco-conscious consumers and saved its design investment by keeping it the same across boxes, brown bags, wrappings, and cartons.
Consider Packaging Inserts
There are as many packaging insert options as there are packaging options. Would you much rather invest your money in the business side of things and keep the packaging non-descript? Try the following packaging inserts to personalize your brand:
1. Thank You Cards
You don't have to write a thank-you note, but you can order a mass-produced thank-you card to make your customers feel valued. Instead of getting them off Esty, avail graphic design services for different branded thank-you notes and have those produced in various quantities.
2. Share Collector's Illustrations
You must know about collector's items like action figures, special merch, and cards. You can adopt this trend to motivate customers to buy more of your products. With these brand-exclusive cards, you must take care not to let a customer receive the same card twice. For instance, design a line of card illustrations related to your brand. They could tell a story, resemble a comic strip, or share short instructions and tips about the product.
If you own a pet food brand, you could feature cute animals with thought bubbles over their heads featuring funny messages. Your animal-loving audience will buy your products just to read these cute messages.

3. Stickers
Stickers can feature your logo or mascot design or be anything you'd like them to be. If your package doesn't adhere to a set shape, there's no reason why your stickers have to do the same. You can design oddly-shaped stickers that accommodate your package's irregular surfaces. You can have a different one designed for each product or keep it the same across the board.
Try not to buy stock stickers online and invest in branded ones. You can always cut costs on die-cut rolls, which are more difficult to apply than printed sheets but will still bring you more customers. While this option is cost-effective, you might have to change them up every once in a while to keep things fresh.
Reach Out to Every Marketer's Favorite Graphic Design Service in Miami
Are you looking for white-label design services in Miami? Look no further than The NetMen Corp in Miami. Corporate design is all our company has known and been known for in the past two decades of design services. Recruit our packaging design services to give a chance to any of the above packaging and inserts. You can also hire our graphic design services for digital illustrations, digital and print ads, and other traditional and digital marketing designs.
Reach out to request our white-label graphic design services in Miami.