[av_textblock size=" font_color=" color="]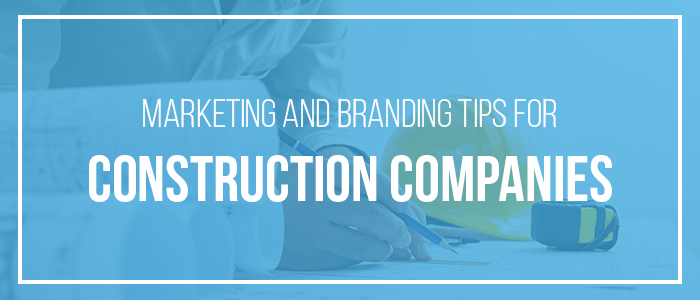 During the process of creating new branding materials and creating or revamping your remarketing strategy, keep these tips in mind to create the best strategy and designs for your construction company.

Why Are Marketing and Branding Important to My Construction Company?
It is crucial for any business to have a marketing strategy no matter the size of the company or industry. Marketing is how you communicate to the outside world about your company's brand, services and why clients should choose you. An effective strategy focuses on selling points and uses information about your client base and creativity to build relationships. When you build campaigns, your marketing strategy may target protentional customers, maintain relationships with past clients, communicate information about your brand to the public or a combination of these things.
When you are developing an overall marketing strategy or a specific campaign, one of the most important factors will be your brand as a construction company. Having an established brand facilitates consistency so customers begin to recognize your company consistently.
A strong brand builds trust with your clients. When it comes to construction projects, clients are going to be more likely to choose a company they recognize rather than a company they do not recognize or has a poor branding design.
Decide on a Marketing Budget and Strategy
Buyers in search of a new home don't walk into any open house or look for places in every neighborhood. There are certain criteria they want their new house to meet. Just like when you are searching for a new home, you should establish a budget before you begin. Working with a set marketing budget will help you during the decision-making purpose.
The budget will also be a benefit when you are determining which branding company or outside agencies you would like to work with. It's possible to have an artistic, visually appealing logo and design materials created on a smaller marketing budget.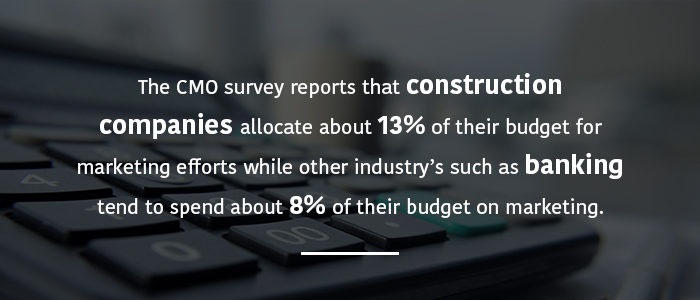 The CMO survey reports that construction companies allocate about 13% of their budget for marketing efforts while other industry's such as banking tend to spend about 8% of their budget on marketing. After you set a budget, the next step is to decide on what your strategy goal is. Your budget will be unique to your company's specific needs and industry. Would you like to be a national industry leader, the top construction company in your local area or bring in four new projects per month? If you are a newer business or looking to rebrand your company, you'll need a larger marketing budget the first few years to establish your brand and create new graphics.
After you're an established brand, you can lower you can choose to lower your marketing budget. You will not have to spend a lot of money if you use a branding company that creates strong brands and materials on a small business budget.
Base Your Marketing Strategy on Your Niche
Take full advantage of your niche to separate you from other construction companies in your area that may work for different industries or specialties. Do you typically work on residential properties, commercial business locations, or both? When you identify the specialized area, you work in you can create a more precise target audience and use some of the industry terms in your marketing materials.
Establish Your Brand Identity With a Professionally Designed Logo
When working on branding and marketing efforts one of the most important questions you will be asked is what do you want your clients to know you for? Do you want to be known for efficiency, trust worthiness, speed?  Your logo and branding will be a way of communicating with customers about your services and company.
For example, organic grocery markets usually have logos with earthy coloring and plants. If one of these stores used a motorcycle or basketball hoop on their logo, customers would be confused about the products these stores offer and what the store sells. If they need to spend time trying to decipher what your company does, it's unlikely they'll decide to shop there.
When you are brainstorming a custom logo design for a construction company, hire and communicate to professional designers what is important to you as a business and what makes the most sense for your industry. Branding for construction companies should communicate strength and durability to clients. Customers want to know that their projects will be finished on time and be completed well.
Create a Logo That Matches the Construction Industry
Logos are an excellent way of helping your clients remember you easily. Think of some of the most memorable logos like the Nike Swoosh or the McDonald's Golden Arches. During advertisements, Nike and McDonalds can display their logo without ever saying the company name — and customers still recognize what business the symbols represent.
This is the type of memorable brand recognition you want to achieve when you're deciding on a construction company logo design. The best construction logos can communicate a message through the visual. You want your customers to see your logo and associate it with your brand and your excellent services.
An eye-catching logo also helps attract new customers to your business. Your logo is often the first impression a potential customer will have with your company. When a logo is more visually appealing a customer is more likely to work with your company. Your logo is a visual representation of your brand.
Another important factor when creating a custom logo design for your construction company is its planned versatility. The logo design should be unique and artistic, while still being simple enough that it can easily be added to multiple mediums such as business cards, email signatures, websites and newspaper ads. A versatile logo will allow you to use it across multiple platforms and maintain the same design for consistency.
Put Your Brand on Display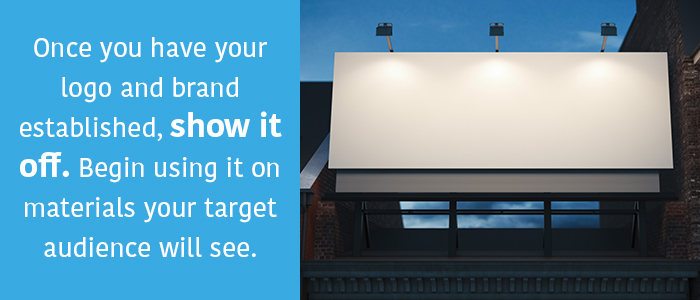 Once you have your logo and brand established, show it off. Begin using it on materials your target audience will see. Add your logo to machinery, team member uniforms, flyers and your website. When your customers see your logo more often, they'll remember it.
When deciding on where to display your logo and branding materials, decide the best places to advertise based on your target market.
Use Your Website and Optimize for Search Engines
Construction companies have grown past relying on word of mouth referrals. No longer is the phone book the best marketing strategy for local businesses. Creating and maintaining an updated website will help make your company show in search engine results when customers are searching for a construction service for their projects.
Many of your potential clients will turn to researching online — it's convenient, easier and much faster compared to looking for a phone book listing or asking all their friends.
When deciding on your website design, create a section for photographs and bios of the prominent members or experts of your company. By doing this, you are humanizing your website and making it easier for potential clients to trust you and more likely to use your business for their construction projects. Your website is also a great place to show off your past success.
If possible, add time-lapse videos to allow clients to see a quick visual from start to finish. Add photos from projects to show to your experience and continue adding photos from current videos. You can also add your logo to the photo to further associate the construction work with your brand.
Take Advantage of Social Media
Social media is a great way to get in front your target market and build brand personality. As a construction company, you can share photographs from previous projects and encourage people to contact you about your services. Social media channels also provide opportunity for targeted paid ads based on interests, age, and location.
You past customers can also share their reviews on your pages for potential customers to view. Reviews help to lower client's perception of risk when hiring a new construction company for their services. According to a study by The Social Habit about 53% of Americans are more loyal to company's they follow on social media. If you worked with a past client on a project, they might choose to come back to you with more work if they see photos of new project completions and that you are continuing to develop industry experience.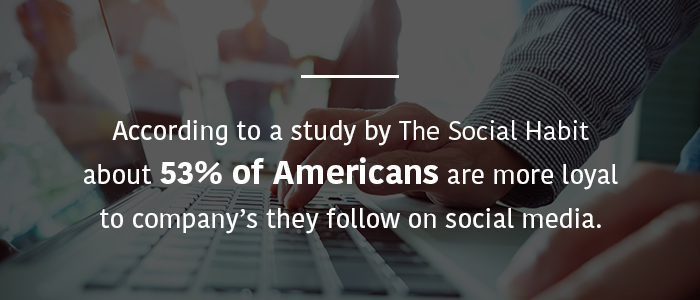 Don't Forget About Print Materials
Take your new logo and designs and display your brand on print design materials. It's essential to have a marketing strategy that uses multiple channels to reach a larger base of potential customers. Seeing your logo in print is a powerful visual representation and reminder of your brand. Be consistent in your design across all channels so customers can associate your company with one design or color scheme rather than seeing multiple versions.
Another area to present your brand is on stationery materials. Brochures also allow you to list your services and selling points on branded material. Other public relations strategies can be helpful for further communicating your brand, such as newspaper ad placements. An innovative marketing strategy that's sometimes overlooked is company vehicle decals. These vehicles and equipment are pieces you already use and they're a prime marketing opportunity.
Communicate With Past Clients
Remarketing strategies are an important part of maintaining a client base. Don't focus entirely on finding new leads. Your past customers are a great resource for your business. And don't underestimate the impact of positive client reviews online or testimonials on your site.
Communicating with clients you have previously worked with helps maintain a relationship and helps them remember your brand — which makes them more likely to recommend your business. Return customers can have high value. If they have more construction needs, you want them to turn to your company.
Stand out From Your Competitors
In the construction industry, there are many competing companies looking for the same projects in the same area. Establish your selling points to communicate with potential customers what makes you stand out from your competitors.
If you have a proven track record of getting projects done on time, recommendations from tons of happy customers or a set of specialized equipment only you offer in the area, tell your potential clients. Include these points in all your messaging. Mention how your team stands out from competitors and why someone should trust your team members to get the job done right.
Spotlight the Experts of Your Construction Team
Your team is the most important part of your construction company aside from your client base. If you have a team member with a proven track record of outstanding service or a specialty, communicate that with potential clients.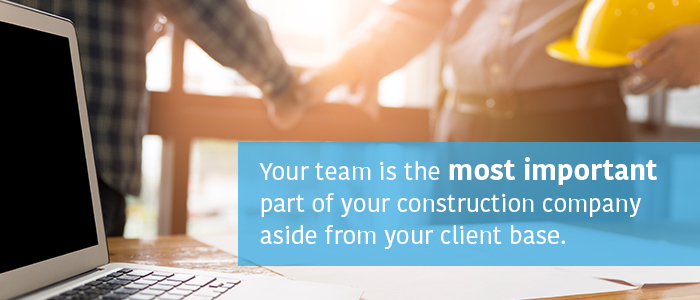 Customers are coming to your company because they are looking for experts to complete the tasks they do not know how to do. Let your clients know that when they choose to work with your construction company, they are working with the best. Spotlight your experts on your website and let them be the human face of your company and a great representation of your brand.
Choose a Trusted Graphic Design Company
Your brand is closely tied to your company's graphic designs. When you decide to work with graphic designers on a logo or other materials, you need to know you can trust them to provide you with great results.
A few questions to ask a graphic design agency:
How long have you been working in the graphic design industry?
Have you created graphics for multiple industries?
Can you create new visuals based on a previous logo?
What type of graphic design materials do you create?
Do you have printing services or will we need to outsource a printing agency once we have the designs?
What type of payment plans do you have?
It is essential when you are investing in design materials that you know who will be handling your project and that they understand your specific needs as a construction company. The NetMen Corp has a proven track record of customer satisfaction. Each project has a designated account manager, so you have a single point of contact to communicate with.
We care about our clients and have an 110% satisfaction guaranteed policy — you do not have to pay the full amount until you are 110% satisfied with the results.
If you are interested in working with innovative, creative, customer-focused graphic design company, contact us today.
[/av_textblock]
[av_button label='Order a Corporate Identity Package' link='manually,https://thenetmencorp.com/product/corporate-identity-package/' link_target='_blank' size='small' position='center' icon_select='no' icon='ue800′ font='entypo-fontello' color='red' custom_bg='#444444′ custom_font='#ffffff' admin_preview_bg="]
[av_hr class='default' height='50' shadow='no-shadow' position='center' custom_border='av-border-thin' custom_width='50px' custom_border_color=" custom_margin_top='30px' custom_margin_bottom='30px' icon_select='yes' custom_icon_color=" icon='ue808′]
[av_button label='Start a Custom Website' link='manually,https://thenetmencorp.com/product-category/web-design/' link_target='_blank' size='small' position='center' icon_select='no' icon='ue800′ font='entypo-fontello' color='theme-color' custom_bg='#444444′ custom_font='#ffffff' admin_preview_bg="]