We're in an age where competition is at an all-time high. With every business strategy and decision, you're just one step away from either record-breaking success or an absolute disaster. So naturally, each crucial decision has to be well-thought-out, such as choosing a graphic designing company for your brand.
Here are a few things you might want to consider:
Look at Their Work Portfolio
When we talk about portfolios, we're not necessarily implying that the company you're choosing should've worked for big names before. It's possible that the company is relatively new in the industry and has only worked with small businesses up till now.
What you need to look for though in their design portfolio is their creative ability and design aesthetics. We strongly believe that everybody has varying design aesthetics, and it's tough for people to settle for a design that doesn't suit theirs.
This is why you need to see the potential of you and the designers being on the same page in the design process by looking at their portfolios.
Your Budget Against Their Charging Structure
Every company needs to have a reasonable sum dedicated toward marketing. That being said, if you're a small company or a start-up, there's only so much you can manage. Therefore, you need to find a company that can cater to all your designing needs within your limited budget without compromising on work quality.
Consider quotes from different companies and focus on the cost breakdown. Every project is different, and revisions are a massive consideration in designing. You need to ask the designing agencies to be upfront about how they charge for these corrections.
A Diverse Range of Services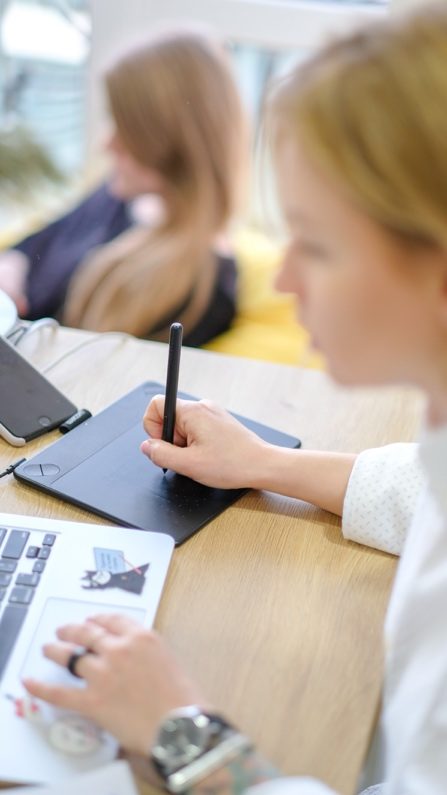 Graphic designing is an umbrella term that virtually covers everything related to digital marketing and beyond. Different businesses have different requirements, which essentially means that you're designing needs are endless.
Naturally, you need a company that can adapt to your needs that may change from time to time. The company should be able to cater to more than just your website. They should be able to help you with additional promotional material like stationery, packaging, illustrations, and so on.
Since you're in the process of choosing a graphic designing company, you can check out our portfolio and the services we offer, which include professional, custom logo design, print design, product packaging design, stationery design, custom illustration design, mascot character design services, Amazon brand page Design Services, and much more.
Get in touch with us to discuss further about affordable website design packages.