Browse the aisles of any store, and you can spot examples of seasonal branding. It works for candy bars, throw pillows and your favorite beverages, but will seasonal branding help your business? Whether you provide a service or sell a physical product, tweaking your branding to fit a season or holiday can help increase your profits, build loyalty and strengthen your company's identity.
What Is Seasonal Branding?
Before we get into the benefits, it's important to understand seasonal branding, which is an extension of general branding. Your general branding represents the essence of your business. It gives meaning to your services and products by expressing your values and goals as a company. Several things go into branding, including your logo and other visual representations of your company, the phrasing you use in print materials, the general vibe your business gives off and how you treat your customers. Together, these branding elements create a reaction or feeling in people who interact with your company.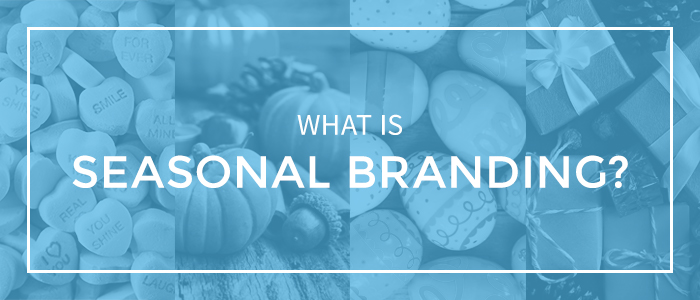 Seasonal branding isn't a complete branding makeover. It's simply a seasonal modification or addition to your brand identity. You maintain your core branding but with a seasonal twist. Once the season passes, you can revert to your general branding or update your company's look for the next season.
Some examples of seasonal branding changes include:
Small updates to your logo to integrate a seasonal image or icon
A color palette on your website or print materials that fits the season
Seasonal images incorporated into print materials or on your website
Website or promotional material copy that evokes the feeling of the season
Holiday packaging or labels for physical products
Seasonal decorations in your physical store or office location
Mailers or promotional materials with a seasonal feeling
Now that you understand what seasonal branding is and how you can apply it to your business plan, let's talk about how it can help your company.
Supports Brand Differentiation
You're likely not the only business in your niche, so what are you doing to stand apart from the crowd? When you do the same things as your competitors, you limit your potential for success. Finding little ways to make your company different suddenly makes people take notice. Seasonal branding is one way to differentiate yourself from your competitors and make your company stand out. People will see your seasonal theme, and it will pique their interest in your services and products.
On a related note, if your competitors engage in seasonal branding but you don't, you could miss potential business. Those other companies will get more attention during the season, which may leave you behind. If you notice others in your field jumping on the seasonal marketing wave, it's time to incorporate your take on seasonality.
Creates an Active, Dynamic Appearance
Having a consistent branding message is important, but never changing the image your business projects can make your company seem stagnant. Completely rebranding your company multiple times a year doesn't make sense from a financial or time management standpoint. However, small seasonal tweaks to your branding will give your company's appearance a fresh look without a complete overhaul.
Any change you make to your branding makes your company seem active. You aren't just going through the motions or relying on past success to carry you. Seasonal branding shows you're actively thinking about your image. It makes you a company to watch since your followers will want to know what you're up to next.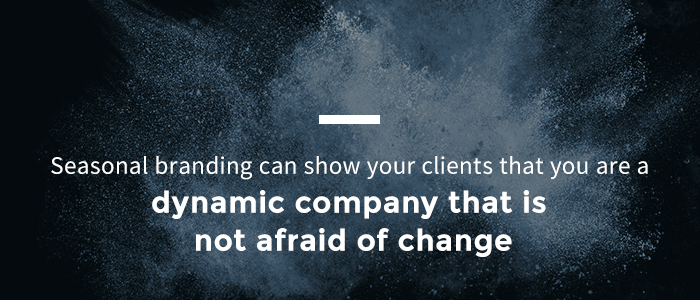 Seasonal branding can also show your current or potential clients you're a dynamic company that's not afraid of change. You're able to keep up with trends and keep your company fresh. Customers might see your company as fun, energetic and engaging because you're willing to infuse seasonal aspects. This can be a very appealing trait to your target audience.
Encourages Personal Connection
Seasonal branding can make clients feel a stronger connection to your company. You seem more personable and relatable, which is the kind of company people want to use. It's also an excellent way to engage with current or prospective customers. People might comment about the branding or ask questions related to your seasonal approach. This opens up the conversation, giving you a chance to connect with those visitors.
Those connections go a long way in building your business. Your current clients gain a greater sense of loyalty as they get to know you and your company on a personal level. Prospective clients want to get in on the action with a company that actually cares about people. Seasonal branding can be an effective icebreaker in developing those connections. All you have to do is follow through with positive, responsive interactions to grow your loyal fan base.
Taps Into Seasonal Appeal
Look on any social media outlet as fall approaches, and you'll see pumpkin spice mania kick into high gear. That's just one example of seasonal appeal that hits consumers at a particularf time of the year. The interest in seasonal flavors, symbols, activities and other elements is already there. By using seasonal branding, you tap into that established interest.
Using that existing interest is an easy way to attract new clients to your brand. Consumers are already thinking about the upcoming holidays and seasons, so seeing your seasonal content and brand message feeds into that excitement. Once you get their attention, they will continue exploring your brand to see what other interesting things you have in the pipeline.
Promotes Your Seasonal Products
If you have a seasonal product or service, shining a seasonal light on your overall branding helps draw attention to that specialty line. When someone sees your seasonal branding, they often want to see how that seasonality comes into play with your products or services. It's the perfect way to spark interest in your company's seasonal goods or services.
For example, a personal organizer might capitalize on the spring season by promoting a special spring cleaning and organization service. A home décor boutique could incorporate an autumn theme into the brand to promote fall-themed décor. A microbrewery might use special holiday packaging to boost holiday gift sales. A freelance writer might use a summer theme to promote a summer sale on a special writing service package. A cosmetics company could release new colors that coordinate with the season. Branding your logo, profiles and other visible elements to fit those seasons draws attention to those specials, potentially increasing your sales.
Renews Interest in Your Business
No matter how large your following, you may notice periods of low interest or slumps in engagement with your clients. Changing up your brand can help draw attention back to your company, causing an upswing in traffic, engagement and sales.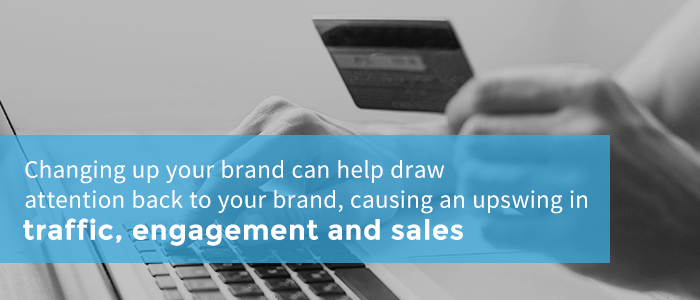 This is particularly helpful when you incorporate that branding into your social media presence. Your typical followers are used to seeing your same logo and regular posts. When you change your profile picture and start posting seasonal content, your company stands out in the newsfeed. Clients who haven't checked out your page recently may decide to see what else is new beyond your seasonal updates.
Can Be Applied Year-Round
Seasonal branding isn't limited to a certain time of the year — you can use it throughout the year for every season. Halloween, Thanksgiving and Christmas often come to mind when you think seasonal, but you can just as easily customize your company's image to match spring and summer holidays, or the season changes in general. You might incorporate pastels in your branding for spring, for instance, or add a fun, summery image to your logo for the season.
You also have versatile options as far as branding for the seasons. You can reflect an individual holiday within that season or go with a more general seasonal approach. Autumn is the perfect example: You can incorporate Halloween-themed elements, or zoom out to a more general autumn theme. Both strategies have their benefits. A general seasonal theme lets you use your updated branding for a longer period without alienating people who don't celebrate a particular holiday. However, holiday-specific themes may better suit certain products or services.
Boosts Your SEO
Search engine visibility is crucial in making your company present online. It helps you reach new clients, which results in more sales and greater profits.
How does seasonal branding help with your search engine optimization, or SEO? First, people searching for seasonal goods or services may find you more easily when you integrate seasonal keywords into your branding. For example, if someone is looking for custom-printed holiday shirts or seasonal home décor, they're more likely to find your online store that sells those products when you use seasonal branding and keywords in your website copy.
Another way it helps your online visibility is by keeping your website active. Search engines check for things like how often you update your site. If you never change your branding or website copy, search engines see your site as less relevant. You aren't providing new, fresh content, so your website is considered outdated. That can lower your ranking according to the search engine, which means your website will show up lower than ones with updated content.
Forms an Emotional Connection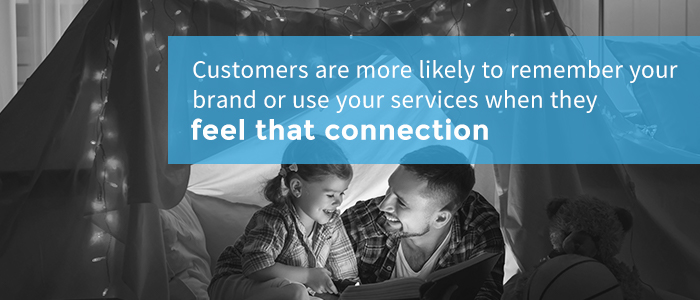 Seasons and holidays often bring up positive emotions for consumers. They might recall special memories from their childhoods related to the season. A person who loved school might feel a sense of nostalgia during back-to-school time, for example. A seasonal approach also reminds people of their traditions around that time of the year.
Getting an emotional response from your target audience fosters relationships. Clients are more likely to remember your brand or use your services when they feel that connection. An emotional connection related to the season may also encourage a customer to make a purchase they might not make otherwise.
If you have a brick-and-mortar business, that emotional connection can also help increase sales. By incorporating seasonal touches throughout the building, you spark an emotional response every time customers shop. You see examples of this seasonal branding in many national retailers like Target. Seasonally themed signage and decorations often hang from the ceilings and near displays. You can apply the same idea to your independently owned retail location to generate emotion-fueled seasonal sales.
Makes Products Seem "Worth It"
In some cases, seasonal branding can be the deciding factor for a customer. When you run a small business, you don't have the buying power of corporate giants, so your pricing may be a little higher. Some customers could shy away from those prices and purchase cheaper products. Adding in personalized or seasonal touches makes your brand more appealing than generic brands, even if your products cost a little more.
Seasonal branding can give you the edge in pushing customers toward buying from you. Whether it's seasonally themed cookies and cakes at your bakery, special packaging for physical products or a seasonal twist on your services, it feels like something extra that's worth the money.
Increases Morale
Changes with the seasons aren't only beneficial for the customers. They can reignite your excitement and get your employees excited about the upcoming season. The changes throughout the year shake things up and create a festive feeling around the office. You'll also create excitement over the potential for increased business with the branding efforts.
How to Maximize Your Seasonal Branding
Effective seasonal branding takes more than slapping some new images on your website. Branding is an important part of creating your company's image and attracting the right kind of clients. That goal doesn't change with the seasons.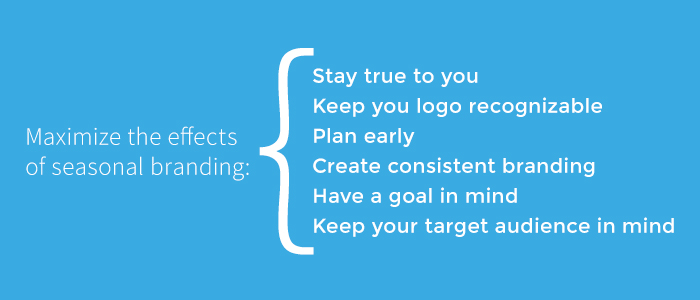 These guiding principles can help you fully develop your branding changes without compromising your company's overall image and quality:
Stay true to you: Adding a seasonal touch to your branding is fine, but don't lose the essence of your business in a flurry of pumpkin spice pandemonium or holiday cheer. Effective seasonal branding retains your traditional brand identity with a little something extra to tie in with the time of year. That familiarity satisfies your loyal customers and prevents your image from becoming too different, unrecognizable or confusing. Finding a balance between seasonal elements and your core brand message is essential for success.
Keep your logo recognizable: This goes along with the idea of keeping your core message familiar. If you have a strong logo design that people associate with your company, changing it too much can have a negative impact. You can add some seasonal embellishments to the logo as long as you keep it recognizable. If you don't have an easily identifiable logo, now's the time to create one.
Plan early: It's easy to get stuck in the current season, but seasonal branding requires you to think ahead to maximize the campaign. Planning a few months in advance gives you time to coordinate the seasonal aspects to create a tight, relevant branding package. You also have time to develop supporting content, such as blog posts or social media campaigns, to promote the seasonal branding.
Create consistent branding: Most companies engage with customers in many different formats, including websites, blogs, social media, online stores and brick-and-mortar stores. When incorporating a seasonal twist, consistency across those channels makes a stronger impact.
Have a goal in mind: What is your purpose for seasonal branding? Are you promoting a seasonal product? Are you trying to generate new buzz? Knowing what you're aiming for helps guide the planning process.
Consider your target audience: Seasonal branding can quickly go from tasteful, professional and appealing to over-the-top and cheesy. Deciding how much seasonality to incorporate and the types of seasonal elements to use depends largely on your target audience. Having a clear customer profile in mind helps determine what kind of seasonal branding will resonate best with your core audience.
Is your company ready for a seasonal update? The NetMen Corp can help you with your redesign with a seasonal flair. Our in-house design team will fulfill your vision with our reliable, affordable, high-quality designs. We give you a direct point of contact, so you'll always feel involved in the process, from start to finish. It's never too early to start developing your next seasonal branding campaign. Schedule your design with us today!
[av_button label='Start Your Seasonal Branding Project Today' link='page,17966′ link_target=" size='large' position='left' icon_select='no' icon='ue800′ font='entypo-fontello' color='theme-color' custom_bg='#444444′ custom_font='#ffffff' admin_preview_bg="]